If you've ever started a search for skincare products that might finally work for your skin, you've probably heard of Curology. It isn't just one Curology review that has spoken — thousands of people are talking about this skincare brand.
This customized subscription skincare company has set out to make the expertise of a dermatologist accessible to anyone in the United States. Anyone, that is, with a laptop, a camera, and an extra $25-$65 monthly budget for prescription skincare.
While there are hundreds of skincare companies vying for your attention, some even directly geared towards men and their particular skin types, Curology is certainly a popular one, with thousands of reviews from real users across several platforms.
But really, you have options. So before you commit to this subscription-based service and start shelling out $25 or more a month, let's take a look at what Curology is, what it isn't, and what other options are out there for effective and customized skincare for men.
Curology Review: How does Curology work?
Curology is an online service that asks you to take a quiz about your skin type and then pairs you with a medical provider that creates a customized skincare prescription for you that ships monthly.
The idea behind Curology is that professional advice and prescription skincare products designed for each individual should be more affordable and more accessible. Not everyone is proximal to a dermatology office or can afford the high price tag of an in-office visit to a skincare professional.
Curology looks to take the guesswork out of your skincare. To get started with the company, you simply answer a few questions about your skin type and history, upload a few photos of your skin, and then get matched with a licensed medical provider.
The Curology provider then reviews your information and prescribes a customized formula to treat your skin and any identified issues, most commonly acne. The active ingredients are a mix of the below:
Tretinoin

Azelaic acid

tranexamic acid

Clindamycin

Niacinamide

Zinc pyrithione

Metronidazole

These are all common active ingredients prescribed by dermatologists to treat skin conditions. After your unique ingredient combination is identified by the provider, it is shipped straight to your door.
Because the active ingredients can be a bit harsh on the skin at first, many providers will recommend that users work up to a daily routine, and start out by just using the prescription once or twice a week or every other day, depending on skin sensitivity.
Once the user has worked up to using the prescription once a day, a bottle usually lasts about a month. During the first few months of usage, the provider checks in and sees how the user's skin is responding to the prescription and if any changes need to be made.
Curology Review: The Curology Quiz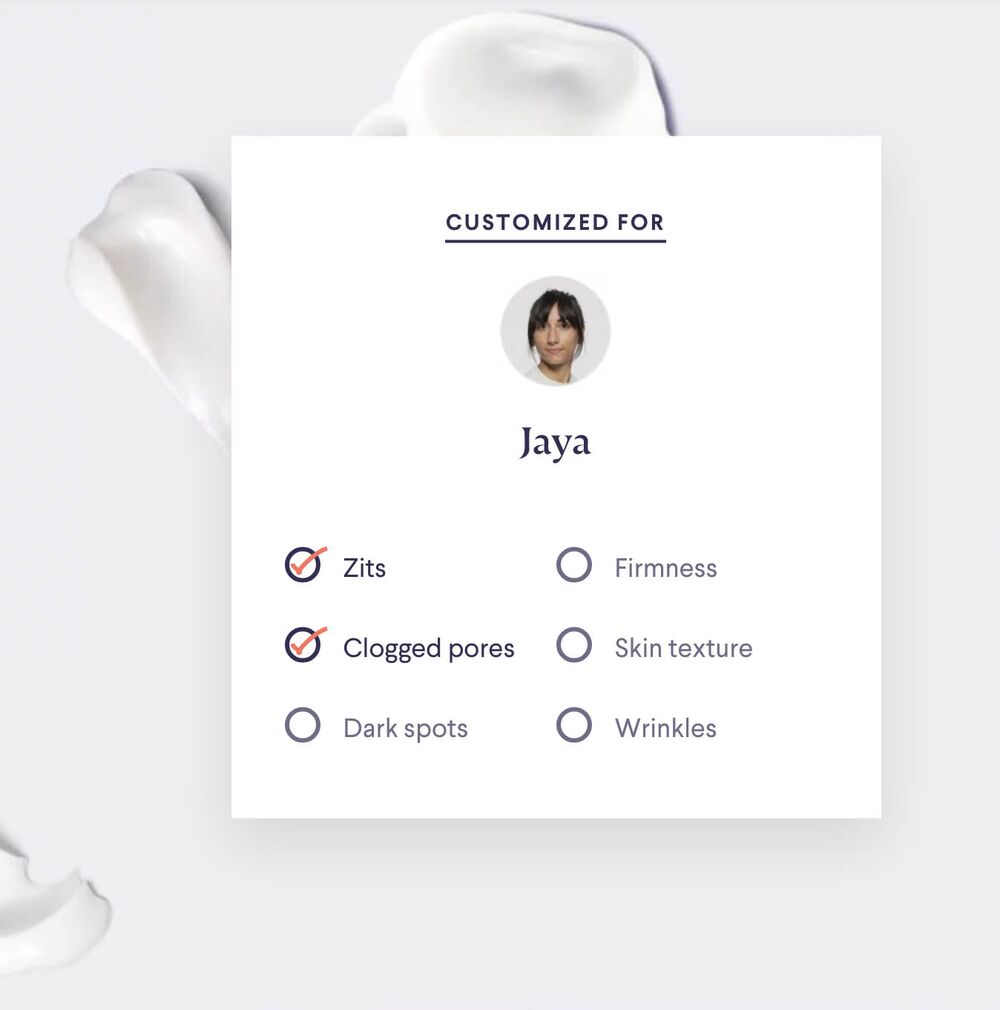 When this Curology review took the quiz, our recommended complete set was designed to target oily skin and breakouts and included a custom formula, cleanser and moisturizer set, emergency spot patches, and an acne body wash.
One thing that we noted during the quiz is that it took about 2 minutes and mostly just identified what issues the user was hoping to target in their skin with the options being:
Fight breakouts

Treat clogged pores

Fade dark spots

Boost firmness

Improve skin texture

Fight wrinkles
The user can pick as many targets as they'd like. If fight breakouts is chosen, the quiz asks on what parts of the body breakouts often occur (face, neck, or chest/back) and everyone gets asked their skin type, whether its very dry, often dry, combination, often oily, or very oily.
Other questions include whether the user wears sunscreen and how often, several demographic questions like race and sex, whether the user is taking hormonal birth control or is pregnant, and what other skin medications have been used in the past.
What we thought about the Curology Quiz
This question about prior medications stood out to us as we conducted this Curology review because if multiple products had been prescribed in the past by a dermatologist or if the prescription had occurred many years prior, it might be difficult to remember what particular medications or active ingredients were prescribed or how the user's skin reacted to them individually.
Another thing this Curology review noted about the quiz was that it was rather short. The benefit of this is that it's extremely easy to get started with Curology and quickly get to your custom formula and recommended complete set.

The downside would be that it is much less thorough and personal than a discussion with a dermatologist would be. It also leaves the potential for the prescribed formula to not be as effective as a dermatologist who has access to a complete medical history and is not restricted by a set list of active ingredients.

How much does Curology cost and does it allow insurance?
Curology has several price options. The first month is free as a trial offer, with the user just paying the $4.95 shipping fee.
After that, there are two options. The first is for $19.95 a month plus $5 shipping for the small custom formula, while the large custom formula is $39.90 every two months, with the option of adding on products like the Curology moisturizer or cleanser ($59.90 for the custom formula, cleanser, and moisturizer together).
Curology may offer prescription skincare, but it unfortunately does not accept insurance. This has become a complaint from some users about the brand, as often other prescriptions with these active ingredients will be covered by standard insurance if prescribed by an in-person dermatologist.
Are there coupons or discount codes for Curology?
No, unfortunately not. Other than the free trial offer for the first month of any user, there are no discounts for the normal subscription or coupon codes to lower the price.
Is Curology cheaper than a dermatologist visit?
While an initial dermatology visit for an uninsured person may cost around $150, an insured person may be able to visit for as little as $20, and also have their prescription costs drastically lowered or completely covered.
Because of this, it's difficult to say if Curology is actually the most cost-effective route to take when looking for personalized prescription skincare. It does cut out the need for a trip to a doctor in person, and dermatologists can be hard to get an appointment with in a timely manner.
Curology also makes the process extremely quick and nearly effortless. When conducting our Curology review, in just about three minutes we had finished the quiz and received our recommended complete set.
However, faster is not always better in every case. You are missing out on that one-on-one facetime that can be extremely helpful when treating stubborn skin conditions like acne.
As we mentioned earlier in our own Curology review, Curology's quiz is also much less thorough than a conversation with a dermatologist would be. Additionally, your Curology provider may be a licensed medical provider, but they are typically a physician's assistant (PA) or a nurse practitioner (NP) rather than a board-certified dermatologist.
With all of that in mind, the option is better suited for you and your skin is likely one only you can make. If you are looking to treat particularly stubborn skin conditions like acne and you don't have insurance that will cover a dermatologist visit or the ability to get in with one as soon as you need, Curology is an easy option that arrives right at your door.
However, it is certainly not the only option, nor is it the cheapest.
Does Curology have side effects?
Because of the active ingredients being stronger than what your skin might be used to, there are some potential side effects from Curology, especially in your first few weeks. These include:
Dryness

mild irritation

Redness

Flaking

Purging (temporarily breaking out worse)
This is another reason why Curology providers suggest that the prescription formula be used only once or twice a week or every other day to start with, to lessen potential reactions while working up to everyday usage.
Does Curology do returns or refunds?
No, Curology does not offer any returns or refunds regardless of whether the user is unhappy with the product or doesn't get the result they were looking for.
Is Curology right for men's skincare?
Curology offers custom skincare that typically treats a specific condition like acne. However, it isn't designed with men's skin in mind, and therefore might not be the best option for men who aren't looking to treat a specific skin condition but who do want to begin using a moisturizer or other more general skincare product.
With Curology, you actually aren't able to purchase the moisturizer or cleanser by itself and instead must purchase the large custom formula to have the option of add-ons. While this is fine for men looking to treat their acne or other skin condition, for men who just want a skin routine that cleanses and moisturizes their skin, they likely don't need the three-step system, the monthly commitment, or the higher price tag.
Get Mr.'s The Daily as this Curology Review Alternative
Curology won't be the right match for everyone, especially if you're looking for an 'all-in-one' solution that has SPF inside. If you're looking for a curology alternative, The Daily by Get Mr. could be right for you. We developed The Daily to be a moisturizer, aftershave, and age-defense skin care product that was specifically formulated with men's skin in mind.
The Daily is one just one product that still manages to deliver all of the antioxidants, protection, age defense, and moisturizing that your skin needs, no subscription or multi-step program required.
The Daily by Get Mr. also includes the ingredient Niamiciade, one of the most dermatologist-recommended ingredients also in the Curology products, so you get the same refreshing, brightening benefits.
In addition, it includes all-natural, mineral-based active ingredients like non-nano zinc oxide, making this product better for you and the planet.
It's also a solid option for men who are looking for a skincare product that is:
Dermatologist developed

Non-greasy

Non-comedogenic

Safe for sensitive skin

Free from chemical SPF
The Daily is a great option for men with sensitive skin who are just breaking into the world of sunscreen and moisturizers or who just want a one-step, all-in-one product that was dermatologist-developed for men's skin.
What is Get Mr.?
Get Mr. was founded by a mother-daughter duo who are passionate about reducing the rates of skin cancer in men.
A relatively new face in men's skincare, but with over 100 5-star reviews online, Get Mr. looks to encourage men who are unsure about wearing a daily sunscreen by educating them on the importance of daily SPF as well as offering an option that can be used as a "Holy Grail":
all-in-one moisturizer

SPF, aftershave

age defense product.
With a brand designed with men in mind, Get Mr. uses biodegradable packaging and promises to reduce up to 90% of skin damage (wrinkles and brown spots) and 40% of skin cancer risk.
What makes The Daily the best Curology alternative for men?
The Daily was developed by dermatologists specifically for men's skin, so it takes into account the differences in men and women's skin. It also is a much simpler option for skincare, involving just one product but still producing all of the benefits that men need for healthy, bright skin.
The Daily is also a great option for those who aren't interested in the commitment of a subscription-based service that doesn't allow for simpler product purchasing. While there is a subscription option for The Daily, it can be for 1, 2, or 3 months and can be canceled or renewed at any time.